Layouts
4 rooms+kitchen area
Stand-Alone House Renata
A two-storey house with a half-gable roof. The main emphasis is on the living space. Thanks to that you will find very spacious rooms and two bathrooms and a toilet. The kitchen is arranged as a kitchenette which can be optically separated by using the right choice of flooring. The space in the house is used down to the last detail, as is proved by the positioning of the utility room under the staircase. A glassed niche next to the dining area allows more daylight into the house.
Floor Plan
Standards of Houses
More Here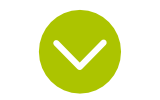 Standards of Constructions of Our Houses
Find out what the house we'll build for you will feature.