Layouts
3 rooms+kitchen area
Stand-Alone House Alena
A single-storey house with a gable roof. An excellent choice for those who want make maximum use of space. An advantage of this single-storey wooden house is the high level of comfort maintained in a minimum built-up space. A popular feature of single-storey houses is open access to the garden, not only from the living room, but also from the bedroom of the wooden house. It is an ideal solution for a family of three or four.
Floor Plan
Standards of Houses
More Here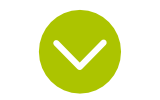 Standards of Constructions of Our Houses
Find out what the house we'll build for you will feature.